Custom Tooling, Injection Molding & Plastic Assemblies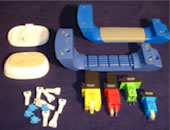 E.E. URD Design and Manufacturing specializes in precision mould making and plastic injection molding for extensive consumer and industrial markets. We are committed to providing superior in-house mould designs, mould-making, and injection molding services. At our new state-of-the-art facilities in both Shenzhen, China and Taiwan, our engineering team can import and work with the latest CAD formats (Pro/E, Solidworks, Autocad, IGES, and STEP) to accurately transfer three dimensional electronic data to finished metal core and cavity shapes.
We adopt international design standards, world class components (DME, PCS & HASCO), and mould steel (ASSAB from Sweden, DAIDO from Japan) in mould-making. We build Pre-hardened, Hardened mould, Multi-Cavity and Hot runner moulds for our clients in the USA and Asia.
High precision tooling, meeting or exceeding extremely tight tolerances.
Low cost and well-skilled labor force allow for affordable, high quality products and services.
Professional design and creative suggestions, including proper materials specifications, tooling layouts, design revisions, CAD work, ISO 9001 :2000 quality procedures, and packaging strategies.
Ingenious in-house engineering to allow for an easy transition from concept and design to series production and delivery.
Close proximity to popular sea-ports and airports allows for convenient transfer, export, and shipping to any US or foreign based company world-wide.
10 Year factory history, 380 people, 6000 square meter world-class production facility.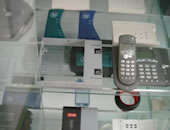 Additional Capabilities:
Support for specialty resins, engineering and commodity grades; application specific support team for material selections.
Experience with medical related products.
Microprocessor control systems for state of the art shot-to-shot consistency
Pad-Printing
Spray Painting
Ultrasonic Welding
Full Assembly and Packaging, container and volume calculations.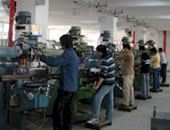 Equipment List:
CNC Machine Center: JOHN FORD 1 unit; KAFO High speed 1 unit.
EDM Machine: AGIE CHARMILLES and TOPEDM Totally 9 units.
Lathe: UNIVERSAL 1 units.
Grinding Machine: SEEDTEC and PUFA Totally 7 units.
Milling Machine: PAOFONG and TAKAM Totally 8 units.
Drilling Machine: YANCHENG 1 units
Projector: MITUTOYO 1 unit.
Video Measuring Center: 3D Family 1 unit
2D & 3D CAD software system 10 units
Injection Machines (KAWAGUCHI made in Japan & HAITIAN made in China) press sizes from 15 to 360 Tons. Totally 69 sets) .
Dual-shots & 3 shots moulding machine 3units.
Please contact us today to discuss your specific project requirements.