Quality Assurance / Quality Control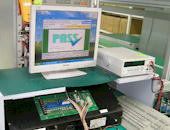 ISO lists the eight quality management principles that best reflect management practices:
Customer focus
Leadership
Involvement of people
Process approach
System approach to management
Continual improvement
Factual approach to decision making
Mutually beneficial supplier relationships
Our clients can be assured that we carefully screen our Asian Contractors, and other associated production facilities used in the manufacturing and assembly process, for strict adherence and certification/registration to ISO standards in general and as required for their specific industry. Upon further discussion we can present any corresponding documentation to our clients as required. Many of our valued associates in China and Taiwan have been with us for many years, quality control standard verifications are important issues when selecting vendors. In all actuality, however, it is the people that make the organization, and we only work with the best!
Plastics and Tooling facilities in Shenzhen, China: ISO 9001 : 2000
Automotive (plastics, wire harnesses, switches): ISO 9001 : 2000; ISO/TS 16949 : 2002
Power Supply Facility in China/Taiwan: ISO 9001, BABT Approved, ISO 9002, ISO 14001
PCB Factory:

UL Recognized E129660
Automatic Optical Inspection
100% Open Short Testing

IPC A- 600G
ISO 9001:2000 System Certified
Statistical Process Control (SPC)
ISO/TS16949 System certified
IECQ QC080000 System certified
Impedance Control



Membrane Switch and Silver Ink Circuit Printing: ISO9001 : 2000 & ISO14000, UL
Conductive Silicone Keypad : ISO9001 : 2000, QS9000 & ISO14000
Flexible PCB and Touch Screen Production Facility: ISO9001 : 2000, ISO14000, UL
Metal Fabrication:

ISO/TS 16949 : 2002, CNC Lathe Processing of Metal Parts for Vehicles
Casting/Forging Parts, Stamping Parts, Machined parts, Powder Metallurgy, Metal injection molding, plastic injection molding., CNC Lathe Processing of Metal parts: ISO 9001 : 2000
Printed Circuit Board Assembly (PCBA): ISO9001 : 2000
PFC Power supplies, active/passive, medical: ISO 9001 : 2001, UL listed., RoHs.
URD Current Sensors Division:
LCD Modules Facility in China / Taiwan: ISO 9001 : 2000
If you have any questions or additional concerns about our quality services please feel free to contact us directly.