Bringing quality and state-of-the-art technology into a diversity of power supplies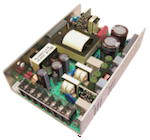 Our research and development efforts focus on the design of the smallest Enclosed and U-Channel switching power supplies for the industrial and medical markets. With more than 20 years of design experience, we have designed many high density, high reliability power supplies to provide customers a wide choice for their applications. Reduce your system development time and save!
Compliance with the latest international safety regulations such as UL60905-1/60601-1, CSA C22.2 No.60950-1-03/601.1-M90, TUV EN60950-1/60601-1, CE EN61000-3-2/3, EN55024, EMI EN55022 FCC CISPR Class "B" and CB.
Pre-production Verification Testing (DVT), reliability testing, and a pilot run to insure that the power supply will meet our customer's requirements.
Every production unit is burned in and calibrated; function and Hi-Pot tested using Automatic Test Equipment (ATE).
Many standard products in both Enclosed and U-Channel versions.
Custom solutions - base model modifications to suit every application and requirement.
Consistent R&D, new products and services are updated yearly.
Complies with RoHs

We have medically certified supplies from 200W to 400W, standard supplies from 100W to 1200W, current sharing power supplies from 200W to 3200W and DC-DC converters from 10W to 500W. We have single output and multiple output supplies. We have both Active PFC versions (EN61000-3-2 Class D) and Passive PFC versions (EN61000-3-2 Class A).
Contact us directly with your application specifications.
100W ~ 320W AC-DC Passive PFC Single Output Series
100W ~ 300W AC-DC Passive PFC Multiple Output Series – Dual, Quad.
150W ~ 200W AC-DC Passive PFC N+1 Redundancy Series
150W ~ 800W AC-DC Active PFC Single Output Series
150W ~ 400W AC-DC Active PFC Multiple Output Series – Dual.
250W ~ 800W AC-DC Active PFC Current Share Series
250W ~ 400W AC-DC Medical PFC Single Output Series
200W ~ 400W AC-DC Medical PFC Multiple Output Series – Dual.
250W ~ 400W AC-DC Medical PFC Current Share Series
10W ~ 500W DC-DC Isolated Single Output Series
60W ~ 300W DC-DC Single Output Series, Non-isolated