Turn-Key Process : Preferred China Manufacturing Resources for all Industries!
The phrase "Turn-key" was applied originally to automobile deliveries. The idea is that you simply accept the delivery and turn the key, hence the phrase "Turn Key". At E.E. URD Design and Manufacturing we're not building automobiles directly, but we can apply the Turn-key philosophy to your product design and manufacturing project as well. The following is a brief outline, in very simple terms, of the process from start to finish. Please note that we work with clients at all stages of development and will gladly perform what is required on a case-by-case basis.
Project Evaluation and Design Process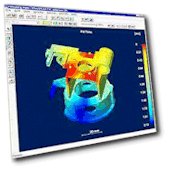 Simply this is the beginning of any project following your concept. We may receive firm engineering designs complete with the BOM (bill of materials), drawings, and CAD/3D files, to allow an explicit calculation of the costs involved to tool and manufacturer your product and/or assembly. Other times we may receive a partial design, with or without a prototype, or a prototype only, or even just the concept scribbled in summary form. The more detail we can receive the easier our job and the less your startup cost. Whatever the case may be we will work with your company at a professional level to bring your concept to production-ready status in the shortest time possible. All design work is done by contract and all NRE (non-recurring engineering fees) are calculated upfront.
Tooling Concept Outline: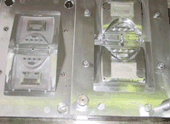 Once the design is firm we must embark upon the tooling process. Tooling is a general term that is used loosely to refer to all the machinery, moulds, and fixtures that must be set up and built to mass produce your product. These tools can be mould cavities as in the case of the injection mold tooling process, dies for cutting patterns, bending tools to produce complex shapes, investment casting, or any other process required to prepare for continuous mass production. At this stage (and all stages) it is also important to consider your forecast and EAU (estimated annual usage). A determination of this is often required as it helps us decide how complex our tooling layout needs to be. For example will you require a single-cavity moulds verse multi-cavity and/or family moulds? Are you planning to produce thousands or hundreds of thousands or millions of pieces per year? We discuss the details with each client personally to be sure we are preparing our production fixtures properly to meet your annual requirements.
Sampling and Adjustments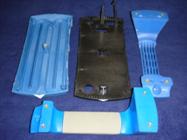 Immediately following the tooling process is when the first sample articles are normally produced. Not until we can receive a formal approval for this sample(s) is mass production initiated. Making the transition from design to tooling to samples is not always a straight forward process and usually requires some "tweaking". Having a physical sample available and being able to feel and work with something will often allow for the realization of required changes. Since your relationship with E.E.URD is factory direct we can often produce standard tooling and adjust as necessary for less than it would cost to pursue the prototype process in the US. Rest assured we will work with you diligently to be sure every requirement is met to your satisfaction. We will do our very best to help you decide the most cost-effective solution to meet your production needs.
Production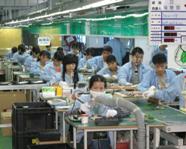 Subsequent to formal approval, we are free to begin with your ordered production. There is no standard time frame that can be applied to all product manufacturing every project is different. For example, for smaller plastics runs you can expect the first lot to be out the door within two weeks. We have worked with clients that have tight schedules and will certainly do our absolute best to meet your requirements, adding additional production shifts if necessary. All estimated production times will be discussed and explained before proceeding.
Packaging
We may either reproduce your intended packaging format or help design one on our own if needed. It is extremely helpful if our clients can submit their required artwork; formats such as Illustrator, Corel, PageMaker, and Freehand are acceptable. We will produce a counter drawing for your approval before a first article is produced. Also important here are topics such as box type, paper type, surface type or coating, required sealing, instructions and/or manuals, shrink wrapping, inner and outer cartons, shipping boxes, shipping marks, and so forth.
Shipping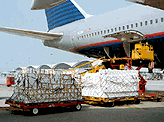 At E.E.URD Design and Manufacturing we work with some of the best and most efficient shipping companies in the business to deliver your products to any port, warehouse, or front door in the world. In addition we can offer services such as stocking of parts, and independent trucking services for any other reason whatsoever. Clients have several options when booking transit, depending of course upon the desired time frame of arrival.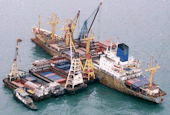 Air shipments, while more costly can arrive at domestic airports and be delivered within 2 weeks of shipment. Sea freights are less costly but will often require 4-5 weeks door-to-door for domestic addresses. Depending upon the time of year and chosen method of shipment transit times may vary. In addition we will handle all the required paperwork necessary for US and/or foreign customs; our customers simply need to advise us the address and contact information to use our shipping services.
Billing
In general our billing structure is as follows:
Design: Quoted per case and often can be waived if only minor assistance is required. 50% is requested with the contract and the balance is due upon completion.
Tooling: 50% is required with the order and the balance is due upon approval of tooled samples.
Production: This is open to negotiation; however, for new accounts production payment may be required in advance of shipping. Established clients may be granted extended payment terms.
Shipping: All prices quoted for production are EXW (from factory) origin. If elected to use our shipping services, billing is normally done separately approximately 2-3 weeks post delivery and is due upon receipt of our invoice. Certain restrictions may apply for certain commodities. Shipping prices fluctuate with the industry and holidays and are subject to change. E.E. URD imposes NO added margin on freight charges; it is a courtesy for our clients.
Please feel free to contact us with any questions or comments related to services provided by E.E. URD Design and Manufacturing, Inc.