Membrane Key Switches
With over 1000 customers from all over the world, our membrane key switches and silicone rubber keypads have found their way into products by some of the most recognized manufacturers, including Motorola, Honeywell, Sanyo, Siemens, Nokia, and Nortel. Over 2000 workers are employed in seven factories, which are located in Taipei, Tu Chen (Taiwan) and Mainland China.
We employ diligent engineering teams, working with the latest R&D equipment to provide you samples within two weeks and subsequent production of your design quickly and efficiently. Our ISO 9001-2000 certified factories maintain very flexible production lines; no matter the volume of your order you can count on E.E. URD to accommodate your requirements. With QS9000 and UL approved divisions, we also comply with specific quality requirements of the automotive industry. Our powerful QC systems and accurate testing equipment for all our products ensure that all products received from E.E. URD Design and Manufacturing will be of the highest industry standards.
Available Product Range and Specifications
Standard 12 Keys, 16 Keys, 20 Keys – Normally do not carry tooling charges
Mylar Dome and Metal Dome are available
Special Design for EMI, RFI or ESD Shielding
Raised Key with Mylar or Metal Tactile Effect
SMD Components on Mylar Circuit or Connector for Tail Termination
EL Backlight / Transparent Window
Operation Voltage
< 35 VDC
Operation Current
< 100 mA
Contact Resistance
< 100 Ohms
Open Circuit Resistance
> 10 Meg Ohms
Operation Force
30g to 500g
Operation Temperature
-35C to +70C
Storage Temperature
-45C to +90C
Life Expectancy
5x105 to 3x107 cycles
Switch Stroke
0.1 - 0.6 mm
Contact Bounce
5 - 30 mSec
Silicone Rubber Keypads
Basic Construction of Silicone Rubber Keypads: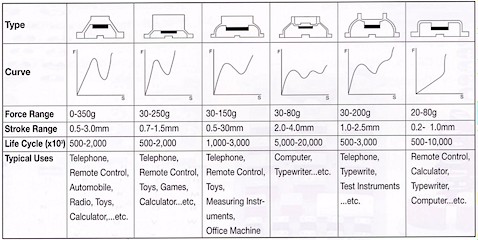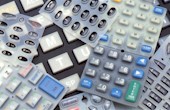 Product Types:
Regular Keypad
Multi-Color Keypad
Plastic injection molded keypad
Laser Etched keypad
Complete Sets:
a. F.P.C. + LED + Keypad
b. Mylar Circuit + LED + Keypad
c. Complete Set - P.C.B. + Keypad + Components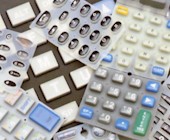 Types of Surface Finishing:
Plastouch Over Coating
Bright Over Coating
Epoxy Over Coating
Night Time Design (Laser Engraving)
Anti-Microbial
Fluorescent
Color Changeable Under Lighting
Note: The specifications listed are for basic reference only; please contact us to discuss your individual requirements.