Metal Fabrication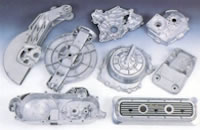 E.E. URD Design and Manufacturing offers precision OEM metal fabrication services, specializing in, investment casting/lost wax, sand/gravity casting, die casting, precision machining, forging/cold heading, metal injection molding (MIM), sintered/powder metal, fine blanking and metal stamping/fabrication/forming for manufacturing parts, components and assemblies.
Capabilities:
Engineering and manufacturing services: R&D processes, tooling and gauging, jig and fixture design, and prototype development.
Design, integrated 3D CAD/CAM system,
Total quality management (TQM) programs and statistical process control (SPC) product quality.
Inspection equipment & Procedures: Vacuum emission spectrometer, CE meter, X-ray, ultrasonic, metallurgical microscope, micrographic analysis, universal/hardness/molding tester, immersion thermometer, wedge inspection, shear and tensile testing, liquid penetrant inspection, radiographic, gauge, CMM (coordinate measuring) and 3-D layout machine inspections, 3-D CAD/CAM, deform simulation of forging process.
Materials: Aluminum / Al alloy, Zinc / ZN alloy, Nickle, Titanium, Magnesium, carbon steel, tool steels, steel alloys, Stainless Steel, Fe-Ni, Tungsten, ND, FeB magnetic, NiTi, Brass, Copper, Bronze, gray cast iron, ductile iron, cast steel.
Standards and Approvals: ISO 9001, QS 9001, TS 16949, ASTM, AMS, AS 9100, MIL-STD, MIL-I-45208 and MIL-STD-45662A, as required.
Surface treatment types: plating / ZN & chrome plating, coating, phosphate, anodizing, CVD/PVD plating and coating, blackening, and fine polishing.
Heat Treatment as required: annealing, normalizing, tempering, nitriding, carbonitriding, carburizing, induction hardening.
Applications:
Aerospace and military industries.
Computer industries
Automotive industries
Electrical and electronic industries
Medical, hydraulic and pneumatic industries
High-end hardware product industries.

Precision Machining:
CNC Milling and turning, grinding, horning, lapping, broaching


Forging and Forming


Die Casting:


Sand and Gravity Casting:


Investment Casting


Cold Forged / Cold Heading Parts:
Fasteners, bolts, nuts, blind nuts, metal bushings, tubing with blind hole, special screws and bolts, shafts and ball joints.


Metal Injection Molding:
Advantages include: cost saving as compared to machining, more complex shapes, high precision within +/- 0.3%


Stamping and Forming:
Stamping, fine blanking, fabrication and assembly.